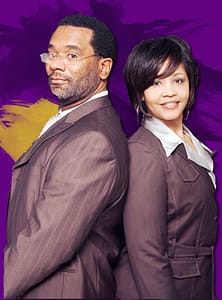 Norman Martin was born the second of three children to Gwendolyn Washington and Jonnie Grubs on December 15, 1966.  On February 7, 1995, God called Norman into the Ministry to be a Teacher and Evangelist, and gave him a scripture…Matthew 28:19.
Rev. Martin served under Dr. Washington at Faith Christian Life Center, receiving his training in the Ministry under her teaching.  Rev. Martin was a quick and eager study, and was soon promoted to New Members Teacher, later serving as Vice President of the Church Board of Directors.
After a time, Rev. Martin and his family left Faith Christian Life Center and joined Evangel World Prayer Center, where he worked with the Youth Ministry.  During his three year tenure at Evangel; Rev. Martin attended Boyce Bible College, studying New Testament Survey.  Rev. Martin kept feeling the call of God moving him up higher and higher.  When God has a plan for your life, he always provides a way.
Rev. Martin's then brother-in-law, Rev. Troy Holly, the then Pastor of Greater Holy Unity Church, was called to duty and left the Country for Kuwait, leaving his Pulpit vacant.  Rev. Holley asked Rev. Martin to fill in for him during his tour of duty.  Rev. Martin filled in for Rev. Holley for one year.  Upon Rev. Holley's return to Louisville, he told the Church that God was calling for him and his family to move on, causing him to relinquish his pastor-ship at Greater Holy Unity Church.  Rev. Martin become Pastor of Greater Holy Unity Church in April of 2006.  However, in February of 2008, the Spirit of God moved upon Rev. Martin to start Kingdom of God Tabernacle.
From the Executive Inn to the Holiday Inn, and while they were there lodging the Lord spoke to him and said that he was only lodging and to start looking to move the people into a building.. and God is not done, He is yet moving.
Pastor Martin thanks God for his family, the love and support that they have shown him on this journey.  His beautiful wife, Lady Renee and three children, one Son Demetrius, two Daughters, Tenisha and Kiera.  And a grand-daughter, Pricess Payton.  Pastor Martin wants to especially thank his Mother, Dr. Gwendolyn Washington for releasing him and his family to move on in answer to God's call on his life.