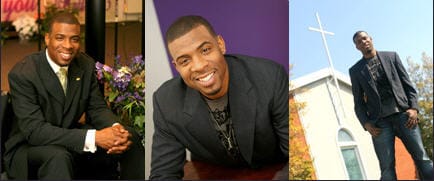 Pastor Timothy E. Findley, Jr. was born in Louisville, KY on July 24, 1979 to Tim Sr. and Rev. Tina H. Findley.  The great call and mandate of God was evident in His life early on as evidenced in his numerous roles in leadership and ministry.  Eventually, Pastor Findley became a student at Boyce Bible College and majored in Pastoral Leadership and Expository Preaching.  While in seminary and after many years of preparation and processing, Pastor Findley obediently fulfilled his call as Pastor and Founder of Kingdom Fellowship Christian Life Center in March, 2008.
Under Pastor Findley's anointed leadership, Kingdom Fellowship Christian Life Center has been noted as one of Louisville's fastest-growing churches.  He has built over forty in-house ministries focusing on effective outreach and evangelism, God-centered creativity, and high-impact worship.  Through the powerful preaching and teaching of sound doctrine, through effective administration and development of leaders, and by remaining compassionate and accessible to his flock, God has blessed Pastor Findley and his congregation to experience explosive growth and continuous expansion.  As a result of this tremendous vision, Pastor Findley has led his congregation to a new facility on nearly 10 acres of land.  He has also expanded the ministry within the city of Louisville, KY by establishing a second location, Kingdom Fellowship West; and also in the city of Lexington, KY as the Overseer of Kingdom Fellowship Lexington.  In April 2013, Pastor Findley also became Overseer of Kingdom Fellowship Living Word Ministries in Georgetown, KY.
While thriving in ministry, Pastor Findley is also flourishing in many community-based and entrepreneurial endeavors.  He is the CEO of Life Development Corporation and founder of FJ Enterprises and Kingdom Kleaning Services, LLC.  Through his ministry and organizations, Pastor Findley has established and implemented various community programs including the Every Little Bit Helps Outreach, holiday toy and food drives, and free summer lunch programs.  He also began hosting WLOU's Power 1350, his own interactive radio broadcast, "The BreakDown with Pastor Tim".  In February 2011, Pastor Findley founded and established the 1Body Fellowship.  Through the 1Body Fellowship, Pastor Findley shares and collaborates with pastors, community leaders, churches, and organizations throughout the city to spread the message of Jesus Christ in clarity, integrity, relevance, and excellence.  Some of Pastor Findley's most exciting accomplishments to date have been the joining of the Bank on Louisville's Executive Advisory Committee, as well as appointment to the Executive Boards for Kentucky Jobs for Justice and Teen Challenge of KY.  In partnership and support of both spiritual and natural empowerment for all, Pastor Findley has joined the Mayor, Metro Louisville officials, community organizations, and social action groups to facilitate positive change through spiritual, social, educational, and economic initiatives.
With practical, yet insightful, charismatic preaching style, Pastor Findley has dedicated himself to spreading the good news of the Gospel of Jesus Christ.  He is a highly sought after speaker who is called on to empower and encourage people everywhere to absolutely surrender to completely live for, and thoroughly be used by Jesus Christ, our Lord and Savior.