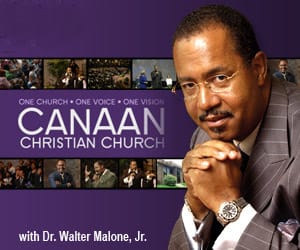 Dr. Walter Malone Jr. is Pastor/Founder of the Canaan Christian Church in Louisville, Kentucky. Under his leadership the Canaan Christian Church serves as a model of ministry with a commitment to promoting the gospel of Jesus Christ through evangelistic outreach, family enrichment, economic empowerment, educational excellence, and community development.
Dr. Malone is a native of Nashville, Tennessee where he attended Fisk University and later American Baptist College from which he earned a B. A. in Theology. He holds a Master's degree from Southern Baptist Theological Seminary in Louisville, and a Doctorate of Ministry from the United Theological Seminary in Dayton, Ohio. He is the author of four books, An Operative Faith for an Oppressed People, From Holy Power to Holy Profits, Let's Have Church, and The Freedom To Be: A Journey into Spiritual Formation.
Recognized and respected around the country as a noted preacher, teacher, and lecturer Dr. Malone has traveled extensively throughout the nation sharing the Word of God and blessing the lives of people. Dr. Malone resides in Louisville with his wife Sandra, Minister of Counseling at Canaan, and son Walter III as Church Administrator.
Noted preacher, teacher and lecturer Dr. Walter Malone, Jr., will release his fourth book, The Freedom to Be: A Journey Into Spiritual Formation. The Kentucky Center for African American Heritage will host a presentation and book signing by Dr. Malone on May 17th from 1 to 3 pm.   Dr. Malone's newest book explores the idea of how God intersects the various episodes and experiences of our lives, giving shape and meaning to the purposes and plans God has ordained in relationship to the salvation experience. He will explain how spiritual formation is the reflection and interpretation of the awareness, transformation, vision and empowerment that is taking place in our lives as we make our sojourn in the world for God's glory and our good.