Pastor, Husband, Father, Evangelist, Advocate, Brother, Mentor, Visionary…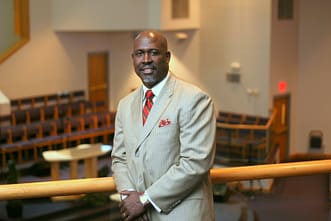 Dr. F. Bruce Williams was born July 19, 1959 to Rev. Earl B. and Norrene T. Williams at Langley Air Force Base in Hampton, Virginia. Early in life, God ordained Dr. Williams' footsteps.   Earning numerous honors, he graduated Summa Cum Laude from Florida A & M University and went on to obtain his Masters of Divinity from Southern Baptist Theological Seminary and his Doctorate in Ministry from the United Theological Seminary.
Dr. Williams was installed as Senior Pastor of Bates Memorial Baptist Church located in Smoketown, one of the poorest zip codes in Jefferson County, Louisville, Kentucky, in 1986 after serving as an associate minister. Over twenty-five years later, the congregation has grown exponentially, seeing its membership increase from a hundred members to over five thousand members.    In addition, the ministries of the church have increased and currently provide 58 diverse areas for people to serve and also provide, through the Bates Community Development Corporation, a number of additional, creative ministry opportunities. In 2004, Bates Memorial unveiled its newly constructed multi-million dollar Worship Facility in an effort to reach more souls for Christ, through teaching Biblical principles and applying them to practical life issues.
Often dubbed, "the preacher's preacher" Dr. Williams is frequently asked to serve as an instructor and guest speaker for various community wide events, lectures, seminars, workshops, and revivals throughout the country. Dr. Williams is committed to changing the lives of the marginalized, people that society has forgotten.   The homeless, the drug addicts, the single mothers, the hurting and the suffering all have a purpose and a place in the Kingdom.   Through his message of transformation and restoration, Dr. Williams encourages people to believe God, to believe in themselves, and to believe that there is something greater for their lives.   He desires that all people seek after and discover their God-ordained purpose by introducing them to the power of the Savior.
Dr. Williams strives to lead people to their divine destiny with God, showing them through Worship, Christian Education and Discipleship, that God has a plan for all his children.  Dr.  Williams' desire to reach others extends beyond the pulpit in his position as Chairman of the Trustees at Simmons College of Kentucky a historical college for African American students as well the Chairman of the Board for the Bates Community Development Corporation, a non-profit organization of the church that works within the community to provide educational enrichment, cultural exposure, and community building opportunities for residents. Dr. Williams is also a 2013 Bingham Fellows Graduate, an organization that allows experienced professionals to work side by side with their peers to provide visibility to critical issues and generate momentum for moving the community forward. 
Dr. Williams is often honored and recognized for his outstanding achievements and in 2005 was inducted into the William H. Sheppard Excellence in the Community Hall of Fame- a distinguished honor for those making significant and notable contributions within the community and was nominated for the Kentucky Civil Rights Hall of Fame. In addition to his outstanding achievements, Dr. Williams' sermon "The Marks of an Irresistible Church" was featured in the Summer 2006 edition of The African American Pulpit in addition to him formerly serving on The African American Pulpit Advisory Board. Dr. Williams was featured in the Inaugural Edition of Who's Who in Black Louisville and also was awarded the United Theological Seminary Alumni 2007 Effective Ministry Award for his dedication to ministry and leadership within the community as well as inducted into the 2007 Presbyterian Community Center Hall of Fame. Dr. Williams was also honored in 2014 by the Louisville Presbyterian Theological Seminary for excellence in pastoral leadership and service.   Showing himself to be a faithful man of God and family oriented man, Dr. Williams was awarded the honor from Today's Woman Magazine, for Greatest Husband in Louisville in September 2011.  Dr. Williams continues to expand his use in the Kingdom by launching his personal ministry and website www.fbrucewilliamsministries.com in the Spring of 2011. Dr. Williams has also released two books entitled Gideon A Hero In the Making and You Can Have As Far As You Can See which are available through his website and Amazon.   
Dr. Williams is married to the former Leona Michelle Smith of Greensboro, Florida.   Dr. F. Bruce and Dr. Michelle Williams are the proud parents of two adult daughters, Imani and Nailah Cymone.