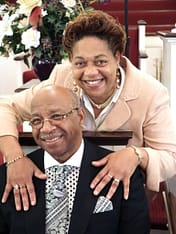 Pastor Ronald L. Holder is a native of Louisville, Kentucky.  He is the son of the late Carrie and Guy Holder and the twin brother of the late Pastor Donald L. Holder Pastor Holder is married to the former Ronesa Ford of Louisville Kentucky. He is the proud father of three sons, four step-daughters and the grandfather of nine.
Pastor Holder received his early education in the Louisville Public School System. He is a graduate of Simmons University Bible College where he received a Bachelor's Degree in Theology. He also attended Kentucky State University and Presbyterian Theological Seminary. He is the recipient of an Honorary Doctor of Divinity from Simmons Bible College.  He accepted Christ as his personal Savior, was baptized, and accepted his call to the ministry. He was licensed and ordained under the pastorate of Rev. Thurmond Coleman, Sr. at the First Baptist Church of Jeffersontown, Kentucky.
Pastor Holder was called to Clay Street Missionary Baptist Church in 1977. In 1984 he led his congregation in the building of a new church facility which is our present location of 1940 Midland Trail. Later in 199 he again. Led his flock in the building of the Marnel C. Moorman, Sr. Family Life Center. On November 20-21, 1999, with construction completed, the dedication ceremonies of the Family Life Center was held. To God be the glory.  He is active in the General Association and the Central District. He is a member of the Shelby County Ministerial Coalition and a number of other civic organizations.
He has served as the Pastor of Clay Street Missionary Baptist Church for 38 years. He has helped nature and develop several associate ministers, some of whom have gone on to Pastor their own churches. Pastor Holder has baptized and won many sinners to Christ. He knows that we can "All Things" through Christ Jesus who strengthens us and gives all the glory to God for what he has done.