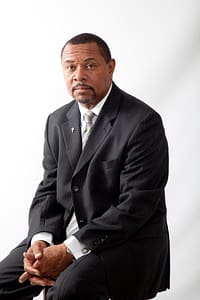 THE REVEREND ALLEN EVANS, JR.,
Senior Pastor
Rev. Allen Evans, Jr. is a native of Louisville, Kentucky. He graduated from Shawnee High School and attended the University of Louisville and Simmons Bible College.  Rev. Evans acknowledged his call to preach at the early age of 21, and has diligently served as the Senior Pastor of St. James Missionary Baptist Church for the past 33 years. Under his direction and leadership the church has grown in numerous areas.
Rev. Evans has a tremendous passion for God's word coupled with a love for God's people. His vision is uncompromisingly clear, with one central principle; to build and develop a kingdom of empowered people for God.  He is also employed with Jefferson County Public Schools and has worked with youth for many years. He especially has a heart to mentor teenagers who have troubled backgrounds.  Frequently, Rev. Evans has been invited to serve as an instructor/lesson reviewer at many Dawn Sunday Schools and Bible Conferences held throughout the City of Louisville.
Rev. Evans is married to the former Delphine Gordon and has two adult children, daughter, Antonya Evans-Marshall, (husband LeRoy) and son, Allen Evans, III (Tres') (wife Sharonda). He also has four grandsons, Zion, Zane Allen, Allen Evans IV (LA) and Maximus (Max).
His favorite scripture is, "And we know that God causes everything to work together* for the good of those who love God and are called according to his purpose for them." Romans 8:28 (NLT)